Minnesota Cities Claim Walmart Is Using Local Police As Unpaid Security Guards
Across the country, local governments are speaking out about how their police departments are subsidizing security at their local Walmart stores, with officers dispatched there more often than competing discount and grocery stores. Now state legislators from two cities in Minnesota say that they're working on possible solutions to the issue.

In a statement to Consumerist, a Walmart spokesman told us that the company is "investing in people and technology" to improve store security.
Walmart's Experiment Is Over: Greeters Are Returning For Good
For a while, Walmart tried a bold staffing experiment: they reassigned employees serving as greeters, a position that serves as both a friendly face and a theft deterrent. Instead of standing at the door,

former greeters

were to help guide customers to the checkouts, or help them find items in the aisles. That experiment began four years ago, and Walmart brought some greeters back about a year ago. Today Walmart announced that greeters will return to their rightful place in all stores.

Greeters aren't just about making people feel welcome and providing employment for local senior citizens, of course. They're about protecting the store against theft,

checking receipts

and watching customers as they leave.

The new position will be called a "customer host," and will be easy to spot because they will wear a yellow vest instead of a blue one. In addition to deterring shoplifters and making customers feel welcome, their duties will also include "keep[ing] entrances clean and safe."

Not all stores will have customer hosts, though: they'll be reserved for only about a third of the mega-chain's stores. Those will be the stores that deal with more shoplifters. Customer hosts will be — shall we say — younger than greeters, on the whole, and will have special training

Current greeters, Walmart says, will be able to apply to work as greeters in other nearby stores, for the customer host job, or for a different job in the store where they already work.
==============================
Here is the Wally World bullshit spin on this policy:
Of all the aspects that make up a great shopping experience, there's one that sets the tone right away: The first few steps inside the door.
We've been working to welcome customers to an improved Walmart for some time now, and of the countless details we've taken a look at, a key piece has been better utilizing an important role – our greeters. Last year, we launched a pilot program that in many stores, moved our greeters from action alley back to the front door, and in others, introduced a brand-new position: customer host, an associate who greets customers, but also checks receipts where appropriate, assists with returns and helps keep entrances clean and safe.
The reaction was positive. In stores with the new customer host role, customers said they liked easily spotting someone to go to for help and advice. Part of this is because our customer host stands out by wearing a yellow vest.
This pilot program was successful so we'll begin rolling out these changes to all of our U.S. stores by mid-summer.
We know a one-size-fits-all-approach to our door coverage won't work for our more than 5,000 stores. To help ensure each store has the coverage it needs, we're using data on safety, security and shrink risks to guide us on how best to staff our entrances. Where our data tells us the risk is higher, we'll add the new customer host. We expect to fill about 9,000 of these new hourly positions that are specially trained to both welcome customers as soon as they walk in and also help deter would-be shoplifters.
Greeters are a big part of our company and culture, and that's why in the majority of our U.S. stores we will continue to rely on them to be the helpful first face customers see. In stores where we alternatively have customer hosts, we're giving our current greeters the ability to apply for these new roles, other positions at their store or Walmart locations nearby. During the pilot phase, more than 80% of the affected associates were able to find new positions – including many promotions. For those who didn't choose to stay, we offered severance pay, which we continue to offer as we move this program nationwide.
Providing customers with an excellent first impression is part of Walmart's broader strategy to ensure simpler, more convenient shopping. Focusing more on our greeters is one of a whole host of details we're looking at – it just happens to be a very visible one.
While the number of stores in the pilot phase of this program was too small for us to glean exhaustive data, we're confident that taking it to a larger group of stores will continue to support the progress we're making in customer experience.
And knowing that our customers are truly feeling the difference? That's the kind of first impression we're working hard to turn into a lasting one.
=============================
8/18/16
Walmart's Out-of-Control Crime Problem Is Driving Police Crazy
The retailer's aggressive cost cutting has unintended consequences.
Officer Ross: "I've got all my bad guys in one place."
Darrell Ross—Officer Walmart to his colleagues in the Tulsa Police Department—operates for up to 10 hours a day out of the security office of a Walmart Supercenter in the city's northeast corner. It's a small, windowless space with six flatscreen monitors mounted on a pale blue cinder-block wall, and on this hot summer day, the room is packed. Four Walmart employees watch the monitors, which toggle among the dozens of cameras covering the store and parking lot, while doing paperwork and snacking on Cheez Whiz and Club Crackers. In a corner of the room, an off-duty sheriff's officer, hired by Walmart, makes small talk with the employees.
As soon as Ross walks in the door, around 2 p.m., he's presented with an 18-year-old who tried to leave the store with a microwave oven. Ross focuses his gaze and talks in a low voice to the young man, who just graduated from high school and plans to go into the military. He also attempts to calm the boy's mother, who rushed to the store and is worried that her son won't be able to enlist if he gets a criminal record. "You need to start taking responsibility for your actions," Ross tells the teenager. "You're a man now." He tells the mother that because it was the boy's first offense, he won't be arrested—but if he messes up twice more, he'll be charged with a felony. Ross slips a pair of reading glasses out of his bulletproof vest and writes the young man a summons to appear in court.
Before he can finish the paperwork, Walmart security employees catch another shoplifter. They bring in a middle-aged woman with big sunken eyes and pale cheeks, her hair tied in a messy bun. Employees caught her using phony gift cards. She rattles off excuses: The cards were given to her by a friend, she's just gotten out of the hospital, she's dehydrated. At one point she pretends to vomit into a trash can. Picking up the odor of pot, Ross takes a look in her handbag and finds marijuana roaches, along with a small scale and a pill bottle full of baggies. A computer check reveals five outstanding warrants for her arrest.
It's not unusual for the department to send a van to transport all the criminals Ross arrests at this Walmart. The call log on the store stretches 126 pages, documenting more than 5,000 trips over the past five years. Last year police were called to the store and three other Tulsa Walmarts just under 2,000 times. By comparison, they were called to the city's four Target stores about 300 times. Most of the calls to the northeast Supercenter were for shoplifting, but there's no shortage of more serious crimes, including five armed robberies so far this year, a murder suspect who killed himself with a gunshot to the head in the parking lot last year, and, in 2014, a group of men who got into a parking lot shootout that killed one and seriously injured two others.
Police reports from dozens of stores suggest the number of petty crimes committed on Walmart properties nationwide this year will be in the hundreds of thousands. But people dashing out the door with merchandise is the least troubling part of Walmart's crime problem. More than 200 violent crimes, including attempted kidnappings and multiple stabbings, shootings, and murders, have occurred at the nation's 4,500 Walmarts this year, or about one a day, according to an analysis of media reports. Sometimes they're spectacular enough to get national attention. In June,
a SWAT team
killed a hostage taker at a Walmart in Amarillo, Texas. In July, three Walmart employees in Florida were
charged with manslaughter
after a shoplifter they chased and pinned down died of asphyxia. Other crimes are just bizarre. On Aug. 8, police discovered a
meth lab
inside a 6-foot-high drainage pipe under a Walmart parking lot in Amherst, N.Y.
"It's ridiculous—we are talking about the biggest retailer in the world. I may have half my squad there for hours"
All this is still happening more than a year into a corporate campaign to bring down crime—a campaign Walmart says is succeeding. Chief Executive Officer Doug McMillon, who took charge of the giant retailer in February 2014, has made reducing crime a top priority. The company's new strategy primarily involves shifting employees within stores—moving them from the storeroom and aisles to store exits, where some of them spot-check receipts. It's also stationing people at self-checkout areas, installing eye-level security cameras in high-theft areas (particularly electronics and cosmetics departments), and using data analytics to detect when people try to get credit for things they didn't buy (thieves love to find discarded receipts in the parking lot, then go into the store, gather up items on the list, and "return" them for cash). To cut down on calls to police, Walmart has been rolling out a program where first-time offenders caught stealing merchandise below a certain value can avoid arrest if they agree to go through a theft-prevention program. At some higher-crime stores, the company is also hiring off-duty police and private security officers. According to Walmart Stores executives, it's all starting to work.
Police chiefs and their officers on the ground say that's just not so. Ross likes to joke that the concentration of crime at Walmart makes his job easier. "I've got all my bad guys in one place," he says, flashing a bright smile. His squad's sergeant, Robert Rohloff, a 34-year police veteran who has to worry about staffing, budgets, and patrolling the busiest commercial district in Tulsa, says there's nothing funny about Walmart's impact on public safety. He can't believe, he says, that a multibillion-dollar corporation isn't doing more to stop crime. Instead, he says, it offloads the job to the police at taxpayers' expense. "It's ridiculous—we are talking about the biggest retailer in the world," says Rohloff. "I may have half my squad there for hours."
Walmart knows police departments are frustrated. "We absolutely understand how important this is. It is important for our associates, it is important for our customers and across the communities we serve," says Judith McKenna, Walmart's chief operating officer for the U.S. "We can do better."
But when? That's what law enforcement around the country wants to know. "The constant calls from Walmart are just draining," says Bill Ferguson, a police captain in Port Richey, Fla. "They recognize the problem and refuse to do anything about it."
There's nothing inevitable about the level of crime at Walmart. It's the direct, if unintended, result of corporate policy. Beginning as far back as 2000, when former CEO Lee Scott took over, an aggressive cost-cutting crusade led many stores to deteriorate. The famed greeters were removed, taking away a deterrent to theft at the porous entrances and exits. Self-checkout scanners replaced many cashiers. Walmart added stores faster than it hired employees. The company has one worker for every 524 square feet of retail space, a 19 percent increase in space per employee from a decade ago.
In terms of profit, all this has worked: Sales per employee in the U.S. have grown 23 percent in the past decade, to $236,804. For criminals, however, the cutbacks were like sending out a message that no one at Walmart cared, no one was watching, and no one was likely to catch you.
Fixing the problem comes down to money. When McMillon became CEO, he established an ambitious program to fix up long-neglected stores, starting with making them cleaner and stocking them better. Then, in early 2015, came a push to crack down on shoplifting. Experts say that should have additional public safety benefits: Less petty crime typically means less violent crime.
"They simply lack the retail business background to understand how important security is"
Walmart developed its current anticrime measures with the help of Read Hayes, director of the Loss Prevention Research Council, a kind of think tank funded by big retailers. Hayes's specialty is the shopping environment, the retail aisles; he's now searching, he says, for the right mix of new electronic surveillance and visual cues to tell would-be thieves they might get caught. "They need to recognize it, believe it, and be threatened by it," he says. "My mantra is: See it, get it, fear it."
Hayes says Walmart is serious about bringing down crime. "They aren't ignoring it," he says. "They are right in the thick of it. But it's a titanic company. It's going to take a while. Go hang out in a Walmart. It's just amazing. Sometimes, what happens in a store like a Walmart can be scary."
No one disputes that. The question is whether Walmart is moving as fast as it can. Its executives "could clean it up in a matter of a year were they to be given the financial support from the board," says Burt Flickinger, managing director of retailing consultant Strategic Resource Group. Eight of the nine nonfamily members of the Walmart board come from academia or nonretail companies, including former PepsiCo CEO Steven Reinemund and Yahoo! CEO Marissa Mayer. Three officers are members of the Walton family, including the chairman of the board, Gregory Penner, a venture capitalist who is the son-in-law of fellow board member Rob Walton, a son of Walmart founder Sam Walton. "The board doesn't want profits to fall," says Flickinger. "They simply lack the retail business background to understand how important security is."
No board member agreed to be interviewed for this story, but the company disputes that it puts profit before people. "Safety and security is a priority of our leadership team," says McKenna. She says the company has the right level of security at its stores and is always evaluating its strategy and staffing.
Flickinger says getting dramatic results wouldn't be complicated. It would just cost a lot. He, like many other Walmart watchers, thinks McMillon is heading in the right direction with the changes he's making, including spending $2.7 billion on higher wages and training to boost morale and attract higher-caliber employees. It just isn't nearly enough, he says. He estimates the number of crimes at Walmart's U.S. stores could be halved with the addition of 250,000 part-time employees on top of the more than 1 million full-time and part-time retail workers the company already has. Even that much new hiring wouldn't get the company to the number of employees per square foot it had in 2006. The cost would be about $3.25 billion a year, or about a quarter of Walmart's profit last year of $14 billion.
Flickinger argues that Walmart can't afford not to invest heavily to expand its workforce if it wants cleaner, more orderly, better-performing, and ultimately safer stores. "It pays for itself," he says. "To get back to that high-performing level of the late 1990s, it's going to take a lot more money." Walmart rejects this view, saying it has all the workers it needs and merely has to better train them and continue redeploying workers according to its plan.
Security experts say there's another way to reduce crime: Hire much more security, including more off-duty, uniformed police. At $35 an hour, a typical rate in many cities, 12 hours of police coverage a day would cost each store about $150,000 a year. Multiply that by the company's 3,500 Supercenters—the largest stores and the sites of most of the serious crime—and it would cost half a billion dollars a year.
Walmart decides on the security budget for each store based in part on a database of how much crime happens on its properties. The company doesn't share those figures. It also works with an outside data analysis company, Cap Index, which assigns each store a risk score, based on a determination of the likelihood of different types of crimes occurring there. The index relies on data including neighborhood demographics, local housing values, national and local crime statistics, and internal company records of theft. These scores range from zero to 2,000, with 100 being the average for a given county or state. A score of 1,000, for instance, would mean a crime is 10 times more likely to occur at a particular store than at a statistically typical address in that county or state. Walmart says it performs regular crime audits of its security measures and adjusts spending for each store. It won't reveal the risk score for any individual store.
According to laws in every state in the U.S., Walmart has a duty to protect its customers from violent crime while they're on store property. Under an area of the law known as premise liability, victims and their lawyers have argued in hundreds of lawsuits that Walmart failed to provide enough security. To prevail, plaintiffs must prove that a violent crime was reasonably foreseeable based on a history of violent crimes at a particular Walmart. "They're not easy cases," says Memphis attorney Bruce Kramer, who has sued Walmart multiple times on behalf of clients who were the victims of violent crimes occurring on company property. "Proving what the duty is and the foreseeability issue is always difficult. You have a certain mindset of jurors who say, 'Why are you holding the business responsible for the acts of this criminal?' "
Walmart's lawyers typically argue that the company couldn't have foreseen the crime in question and that it took reasonable steps to keep customers safe. It tries at every opportunity to keep its crime database secret. Even in litigation, when it must produce company records under court seal, its lawyers have wrangled for months or even years to limit access to its records, arguing the information is proprietary. "Nothing compares to the way Walmart litigates cases," says attorney Christopher Marlowe.

He fought Walmart for several years over a lawsuit he filed in 2010 on behalf of a woman who was abducted outside a store in DeFuniak Springs, Fla., and repeatedly raped. Marlowe said in a court filing that he learned only in 2013 of the database, which documented "precisely the sort of incidents" he sought for more than two years. Walmart's lawyer, he said, "led everyone to believe that crime data retrieval was a great mystery—a query of inconceivable proportions." Walmart denied liability in the case. The company eventually settled for an undisclosed sum.
Enraged by the circus atmosphere around the video, he denounced Walmart on Facebook and in the local media. "The Beech Grove Walmart is NOT a good corporate partner," he posted. The YouTube video "was embarrassing to the City of Beech Grove and the people who live in our beautiful city. Walmart should be ashamed of itself once again for failing to control the people who enter their store."
Regional Walmart executives asked for a meeting with Buckley and Craig Wiley, the city attorney. "You could tell by their body language that they came to the meeting with a very conciliatory tone, and they were going to get their arms around the problem," Wiley says. Walmart promised to hire security and extend a fence on the rear of its property, which barred an easy exit for shoplifters into a retirement community. It said it would skip calling the cops for first-time offenders shoplifting merchandise valued below $50 if the shoplifter completes the company's theft-prevention program.
Buckley was pleased. But in the weeks following the meeting, Walmart dragged its heels. Buckley went public again, this time appearing on national cable news. "Walmart Beech Grove is draining our police resources," he told Fox Business Network. "It's the string of terrible events that have been occurring down there over the past two months that have led me to instruct our police chief to declare the Walmart a public nuisance."
That meant the threat of a $2,500 fine for every call to the police. Walmart now pays for off-duty police to man the store, and the pressure on the local police has eased. A year later, Buckley is pleased, but it still irks him that he had to go to such measures to get Walmart to act. "Cities really need to put their thumb down and get them to the table," he says. "It's taken a long time, but they can really be good partners if they want to be."
T
he Tulsa Supercenter hasn't had its happy ending. The store has seen several changes mandated by Walmart headquarters, including more visible security monitors, greeters at the doors, and changes to the self-checkout section, but Officer Ross says it's business as usual. The mentality hasn't changed; criminals still think of this store as theirs. And Ross knows the answers aren't always simple.
Three hours into his shift, security employees bring in a young woman who'd been wandering around the store with an older man. They'd spotted her slipping on a pair of $15 gray sneakers, then attempting to leave without paying. The woman, in capri leggings and a hoodie, is brought to Ross. She turns her head and reveals an enormous black eye on the left side of her face. Ross moves toward her, and she instinctively flinches—a telltale sign of domestic abuse, he later says. He tucks his hands inside his bulletproof vest and relaxes his broad shoulders, making himself seem a bit smaller, a bit less intimidating. "Is he the one who did this to you?" he asks, motioning to her eye. She knows who he's talking about. She says yes, and her eyes well with tears.
The dingy office, filled with jokes and light banter seconds before, falls silent. This little corner of the giant store has turned into a counseling center. As mascara and tears streak down her red cheeks, the woman apologizes for stealing. She talks about how she's been an alcoholic for most of her 29 years, how her three kids live with their dad because she knows she can't care for them. She says her current partner beat her two days ago because she took her kids to the pool and had "too much fun." She's going to counseling for her alcoholism. She was planning to go cook dinner for her children at their father's house after she left Walmart.
The woman with the phony gift cards and marijuana quietly tells her that she too was in an abusive relationship. They talk in murmurs. Ross writes the younger woman a summons to appear in court. It's her first offense. She walks out with no shoes, because no one can find the ones she left in the shoe department. That's all right, she says, "I can deal with it." As she leaves, Ross worries her abuser is waiting for her in the parking lot.
Later that day, after the sun has set and the air has cooled, the store grows quiet. In the parking lot, a private security SUV with a flashing yellow light on top sits near the exit. Driving the car is a small, elderly man whose tufts of gray hair are barely visible over the steering wheel. Private security jobs like this tend to go for $10 an hour in Tulsa. The "T" on the Walmart sign has burnt out. Stray cats scrounge around. In the far reaches of the lot, people hunker down in their campers, vans, and U-Hauls for the night. It's nearly midnight in Tulsa, and for a few hours it looks like the local cops may get a break from Walmart.
=============================================
3 Walmart Employees in Florida Face Charges in Death of Shoplifter
It was, by the official account, a brazen shoplifting attempt. A 64-year-old man loaded a shopping cart with $380 worth of DVDs at a Walmartin Florida and made for the door, holding up his sagging pants as he ran.
It was 3 a.m. Three employees gave chase and pinned him to the ground until the police arrived. "I can't breathe," he cried out, and then he stopped moving. He never revived, and died in the hospital.
Now the employees of the Walmart, in Lakeland, Fla., have been charged with manslaughter, accused of holding down the man, Kenneth Wisham, outside of the store on that day in February.
The Lakeland Police Department announced the charges on Friday after the medical examiner ruled that Mr. Wisham had died of "mechanical asphyxia," or choking, from being restrained, and that he had 15 broken ribs.
Facing one manslaughter charge each were Nathan Allen Higgins, 35, a manager; Crucelis Nunez, 23, a customer service manager; and Randall Eugene Tomko, 58, a loss prevention officer, according to the police affidavits.
The three appeared before a county judge on Friday after their arrest the day before. Mr. Higgins posted a $2,500 bond and was released on Saturday, his lawyer, James Franklin, said on Tuesday. An arraignment was scheduled for Aug. 30, but Mr. Franklin said a written plea of not guilty was entered.
Lawyers for the other defendants could not be reached Tuesday afternoon for comment.
A Walmart spokesman, Charles Crowson, said on Tuesday that the workers had been suspended and their job status was under review. He did not have immediate replies to questions about the company's policy and training on how workers should stop shoplifters, and whether this was the first time Walmart employees have been charged in such cases.
Attempts to stop shoplifting suspects have come under scrutiny in cases where force is used or employees or bystanders have stepped in. In two separate cases in Indiana and Michigan last year, customers with guns saw store employees chasing shoplifters and tried to help by opening fire as the suspects drove off.
The police affidavits describe the force used by the Walmart employees to restrain Mr. Wisham, a resident of Lakeland, a city of about 100,000 people south of Orlando. Early in the morning on Feb. 7, he tried to slip out of the store with the DVDs in the cart but then abandoned it at the door when employees noticed.
He ran across the parking lot and onto a grassy area nearby, pulling his pants up because they were falling down as he ran, the police said.
"At some point, Wisham fell to the ground," the police said.
Ms. Nunez jumped on his back and punched him several times, according to the affidavits. Mr. Tomko pinned Mr. Wisham to the ground facedown, laying on top of him at an angle, and Mr. Higgins, who had been eating lunch in his truck and was told by a manager to help, held Mr. Wisham's ankles, they said.
Mr. Wisham struggled, said he could not breathe, and said "Let me go."
He then went still.
As the police were on the way to the store, they got a second call saying that the suspect was not breathing and needed emergency medical care.
According to a 911 recording published by The Lakeland Ledger, a dispatcher could be heard instructing a Walmart employee how to try to resuscitate him.
Mr. Tomko said they had held Mr. Wisham down for about 10 minutes until the police arrived, according to the affidavit.
Mr. Wisham was taken to the hospital, but he never regained consciousness and was pronounced dead the same day at 3:40 p.m., the police said.

Former workers sue Walmart for being fired after disarming customers
By Andrew Adams
May 26th, 2011 @ 7:03pm
This archived news story is available only for your personal, non-commercial use. Information in the story may be outdated or superseded by additional information. Reading or replaying the story in its archived form does not constitute a republication of the story.
LAYTON -- They were fired after disarming a man with a gun who said, "Don't make me do this." Now, those workers from a Layton Walmart are at the heart of a lawsuit filed against the world's largest retailer.
Three of the "Layton Four" featured in an exclusive KSL investigation in February -- along with a former Cedar Hills manager and two former West Valley loss prevention workers -- are the plaintiffs. Their lawsuit, filed Wednesday in 2nd District Court in Davis County, names six causes, including wrongful termination and violation of plaintiffs' right to self-defense under the Second Amendment.
"Our concern is that Walmart has put their employees and customers at risk to preserve their bottom line," said Lorraine Brown, attorney for the plaintiffs.
The lawsuit seeks compensation for the loss of what Brown terms "career positions." The text of the lawsuit asks for compensatory damages for "emotional distress, humiliation and anguish," among other things.
For many of the workers, it has been a tough road since their terminations. Shawn Ray, fired from the Layton Walmart for intervening and stopping the shoplifter with the gun, still has not found a new job more than three months later. Before, he'd been planning to move into a new house.
"The bills are piling up," Ray said. "The house is not even an option now."
Ray maintains that how he, Gabriel Stewart, Lori Poulsen and Justin Richins acted was "the right thing to do." Richins is not part of the lawsuit; Brown said he had found a better job.
Derek Holt and Eric Hunter, also plaintiffs in the case, feel the same way. Holt was a loss prevention manager and Hunter was a loss prevention associate at the Walmart at 3180 South 5600 West in West Valley.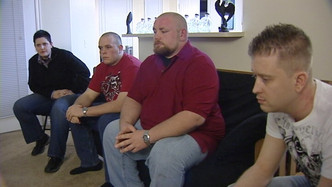 Three of the "Layton Four" featured in an exclusive KSL investigation -- along with a former Cedar Hills manager and two former West Valley loss prevention workers -- are the plaintiffs in the lawsuit against Walmart.
Last Christmas Eve, they were trying to escort a shoplifter when she pulled a knife.
"Eric Hunter started screaming, 'Knife,' and that's when we had a hold of her," Holt recounted to KSL Thursday.
As Holt looked for the knife, he said he found it pointed right at his back. As the workers were struggling with the woman, a customer ran up and grabbed the knife.
The two employees were later fired.
"I'm glad that somebody's finally standing up and trying to get them to at least change their policies, because I don't want this to happen to anybody else," Holt said.
The sentiment has also been expressed by the sixth plaintiff, James Dallin. He explained to KSL in February that he had acted quickly to protect a co-worker in a domestic violence incident in the store. He was fired as well.
"If I'm a shopper at Cedar Hills or if I'm a shopper at the Layton Walmart, I'm certainly concerned," Dallin said Feb. 10.
Walmart addresses lawsuit
Walmart was quick Thursday to dismiss the basis behind the lawsuit.
"We just can't have associates trying to take matters into their own hands," Walmart spokesman Greg Rossiter said by phone.
Rossiter said Walmart's policy is standard with other retailers and is "in place to help ensure everyone's safety."
KSL obtained a copy of policy "AP09" in February. It's the policy pertaining to how to deal with shoplifters. It instructs if a weapon comes out during an encounter with a shoplifter, associates are supposed to "disengage" and "withdraw."
Rossiter also said the information provided by the former workers did "not accurately reflect what took place."
The plaintiffs are sticking to their stories, and hoping to stick Walmart for damages to help their struggling families.
"That's all gone out the window, so we're looking at reimbursement for lost wages and that career position," Brown said.
4 Walmart employees fired after disarming gunman caught shoplifting
By Andrew Adams
February 9th, 2011 @ 10:00pm
This archived news story is available only for your personal, non-commercial use. Information in the story may be outdated or superseded by additional information. Reading or replaying the story in its archived form does not constitute a republication of the story.
Main Story Video
Group talk about incident with Longton
Group on policy, decision to act
Group on getting fired
LAYTON -- The shoplifter smashed Gabriel Stewart up against a wall. It didn't take him long to realize that pressure against his lower back was from a loaded gun held by a desperate man who didn't want to go to jail.
The gunman had a firm grip on Stewart's shoulder, telling him and three of his Walmart co-workers, "Don't make me do this."
"Absolutely, time stopped," Stewart told KSL News. "I didn't know what to do."
Instantly, Shawn Ray and Justin Richins kicked into gear, spinning the gunman around. Lori Poulsen ripped the gun away and secured it. They all held onto the man until police arrived minutes later.
The four Layton Walmart employees felt it was mission accomplished. Police officers told them they had done everything right.
But a week later, all four were fired from their jobs. Walmart said their actions had violated company policy and put their fellow workers and shoppers at risk.
It was the afternoon of Jan. 13 when employees at the store saw Trent Allen Longton unwrap a Netbook computer in the electronics section and stuff it under his clothes.
Asset protection coordinator Poulsen met him at the door and ushered him back to the loss prevention room to confront him. Not long after, Ray and Richins -- both asset protection associates -- filtered in, followed by Stewart, an assistant manager, to witness.
Moments after he pulled out the small laptop, the workers say Longton also pulled out a handgun and charged toward the closed office door. Ray, Richins and Stewart were in the way. He grabbed Stewart as his way to get out.
"He looked right at me and said, 'The gun is cocked. C'mon guys, just let me go. I don't want to do this,'" Shawn Ray recalled.
The four believe their quick actions to disarm and secure the man helped prevent what could have been a tragic event. They held the man until a police officer arrived, who wrote in his report that the gunman was taken to the ground in his and citizens' "best interest and safety."
"I was thinking, 'Whose house am I going to tonight to tell their family their loved one was shot?'" Poulsen said. "You have to make a decision: Do I fight for my life or do I stand here and watch?"
Workers still can't believe what happened the next week.
"She said, 'You're fired,'" Richins recalled, of the person brought in to let him go. "You're being terminated for a violation of AP09." AP09 is Walmart's policy on dealing with shoplifters. A copy obtained by KSL shows employees are allowed to use "reasonable force" to limit movements of struggling suspects. If a weapon comes out, however, associates must "disengage" and "withdraw," the policy states.
The workers say they don't know where they would have withdrawn to, with the door behind them closed in a small room and the man charging at them. They contend they had no other real option.
The former employees also are expressing concern about allowing Longton, armed with a loaded gun, out into the crowded store and beyond.
Longton, according to the police report, was a convicted felon who had multiple warrants out for his arrest. He was a restricted person -- meaning he wasn't supposed to be carrying a handgun. The handgun was loaded, according to the report, and contained a bullet in the chamber.
Layton police would not comment on the appropriateness of the Walmart workers' actions, but did acknowledge Longton -- with the information that had come through dispatch -- likely would have faced a stiff police response outside the store.
"Likely they (the officers) are going to produce their handguns and try and take the person into custody, because you've got to be ready for it," Layton Police Lt. Garrett Atkin said.
Longton pleaded guilty Monday to two charges: robbery, a second-degree felony; and the purchase, transfer, possession or use of a dangerous weapon by a restricted person, a class A misdemeanor. In exchange for his plea, three other charges were dismissed, including threatening or using a dangerous weapon in a fight or quarrel.
Longton is scheduled to be sentenced on March 28.
The four workers were full-time employees. Stewart had been with the company for more than 12 years. Poulsen, who was employed for more than seven years, had made Walmart a career. Ray said his dismissal kept him from purchasing a home.
"I honestly felt worse than when I had the gun to my back," Stewart said. "I honestly felt betrayed."
The former employees are considering their legal options.
Walmart defended the firings in a statement.
"We appreciate the intentions demonstrated by our associates in this situation, but the actions taken put their safety -- and potentially the safety of our customers and other associates -- in jeopardy," Walmart spokesman Dan Fogleman said. "In their roles within the store, they were aware of our expectations regarding safety and, unfortunately, their actions have led to them no longer working for the company."
[CLICK HERE to read the entire statement]
Stories of similar firings exist, including one in Kansas last May. A Walmart worker in Wichita was fired when she followed a man outside the store and demanded proof that he had purchased a computer.
Facebook User Comment

"That is absolutely ridiculous! I hope those workers decide to try and sue. They should be considered heroes for what they did and Walmart kicks them to the curb.' -- Brigitte Reed
Comment on Facebook
The man, according to news reports, kicked and hit the woman before letting go of the computer and running away. She was not an asset protection associate or a manager, and a spokesperson at that time contended she violated company policy and put herself and others in danger.
Corporate lawyers say company policies like the one at Walmart are common in the retail world. They're designed to protect employees and make sure they don't put merchandise ahead of their own safety.
Some security experts, however, take issue with the policy.
"I'm surprised they would be fired they're defending their lives," said David Lundberg, who was a police officer for 21 years, has additional security experience and now runs Utahdetective.com.
Lundberg believes concern over liability drives these policies.
"People slip and fall, get head injuries, that kind of stuff," Lundberg said. "So that's what stores are worried about is the liability -- getting sued."
E-mail: aadams@ksl.com
----------------------------------------------------------------------
Monday, May 9, 2016
Investigation and Detention of Shoplifters Policy
----------------------------
Al Norman
Become a fan


Wal-Mart's Vigilante Justice Against Suspected Shoplifters
Original article at:
http://www.huffingtonpost.com/al-norman/wal-marts-vigilante-justi_b_5603437.html
After spending the last six months in jail, Kenneth C. Moureau will enter an El Cajon, California Superior Courtroom on July 22nd. to fight charges that he stole $86.37 from a Wal-Mart store in Santee, California. He faces up to 9 years in jail on assault with a dangerous weapon charges.
Moureau might be a free man today if he had not been wrestled to the ground by as many as 4 Wal-Mart workers.
According to a San Diego County Sheriff's arrest report dated January 12, 2014, Moureau, 50, says he was shopping at Wal-Mart with his wife, Lori Ruch. While she was paying for their items with cash, Ruch had to wait while the cashier got her a pack of cigarettes. Moureau took his cart and started to head to their car. Moureau says the Wal-Mart cashier looked at him and told him to "go ahead."
What happened next in the parking lot went down in a matter of minutes. The arrest report notes that Moureau stated "an unknown young male grabbed him by the arm. Moureau thought he was being robbed and did not know who the individual was. Shortly after the first individual grabbed Moureau by the wrist, another unknown male walked up and grabbed Moureau by the leg. Moureau feared for his safety and pulled his knife from this front right pocket."
The "first individual" to lay hands on Moureau was Devone Riley, a 23 year old "asset protection" employee at Wal-Mart. Riley admitted in a court statement that he was not wearing any type of Wal-Mart identification, because he did not want people to know he worked for the retailer.
In his arraignment transcript, Riley claimed that he grabbed Moureau because the latter was about to back into a baby stroller:

Riley: I grabbed his jacket and I pulled him away from the baby...And then he started to struggle with me and fight with me, and then I turned him around and I went to push him against the wall, and as I did, he pulled out a knife...He started to struggle with me because I was holding onto his jacket...so I turned him around and I went to like push him against the wall, so he would stop, which I'm allowed to do.
Later in the transcript, Moureau's Public Defendant asked Riley about Wal-Mart's Shoplifters Detention Policy:
Q: Prior to switching from what you were doing [at Wal-Mart] to asset protection, did you do any training with Wal-Mart...as in policies and procedures of asset protection?
Riley: Yes.
Q: Is it a course that you take or is it a book that they provide you?
Riley: They provide you with a binder, it's filled with papers, and then you also have to train with an approved associate to train you.
Q: Does Wal-Mart have any type of policy preventing asset protection specialists from touching the---any suspects of theft?
Riley: Not particularly. We're allowed to physically restrain people, to physically redirect people.
Actually, that's not even close to what Wal-Mart policy says. In its Investigation and Detention of Shoplifters Policy (AP-09) Asset Protection employees are instructed to "PUT PEOPLE FIRST. Protecting the physical well-being of Suspects, customers, and Wal-Mart associates is your first priority. Only non-aggressive methods may be used when investigating Suspects."
AP-09 also says that "If at any point the Suspect or any other involved person becomes violent, disengage from the confrontation, withdraw to a safe position, and contact law enforcement." Wal-Mart workers are allowed to defend themselves "to the extent necessary to disengage the Suspect and withdraw from the situation."
Wal-Mart AP-09 is very clear that "if a suspect is believed to possess a weapon, the Suspect must not be detained. If during detention, it becomes apparent that a Suspect has a weapon or brandishes or threatens use of a weapon, all associates must disengage from the situation, withdraw to a safe position, and contact law enforcement."
If Wal-Mart staff had adhered to this policy and disengaged, Kenneth Moureau probably would not have spent the last 6 months in jail on weapons charges.
Wal-Mart's war on alleged shoplifters never seems to end. I have been writing about the retailer's mishandling of "loss prevention" incidents for the past 13 years.
In January, 2011 in Layton, Utah, Wal-Mart fired four employees who wrestled a gun from a suspected shoplifter. The retailer defended the firings in a statement, which read in part: "We appreciate the intentions demonstrated by our associates in this situation, but the actions taken put their safety -- and potentially the safety of our customers and other associates -- in jeopardy."
Last year I blogged in this space that " it was time for Wal-Mart to stop killing shoplifters." This confrontation in Santee left suspect Moureau with an arm broken in 14 places, and the prospect of years in jail---all over a car jack stand, a skillet, some storage bags and a steam iron.
"My husband is incarcerated in the central unit at San Diego county jail in the medical unit recovering from his third surgery on his arm and hand," Lori Ruch told me. "His surgeries were required after he was attacked by and subdued by 4 grown men---all of whom were each larger than his 5'7" 120lb frame." Ruch also notes there was no baby stroller in the Wal-Mart surveillance tape she has seen.

Wal-Mart employees need better training---but they also need to realize they do not work for a law enforcement agency. If Wal-Mart can't cover its assets better, more people will be seriously wounded---or die--face down in a Wal-Mart parking lot.
As one Wal-Mart spokesman admitted after the Layton firings, "We just can't have associates trying to take matters into their own hands." But it has happened again in Santee. Wal-Mart's loss prevention policy today at the store level is just vigilante justice.
Given Wal-Mart's corporate culture, is it really possible for this company to PUT PEOPLE FIRST? Or will they continue to believe they have the right to "push people" against the Wal?
Kenneth Moureau will have his day in court this Tuesday. But it is really Wal-Mart that is on trial.
---------------------------------
Thousands of police calls.
You paid the bill.
Note: Graphics did not reproduce for this article
May 11, 2016
By ZACHARY T. SAMPSON, LAURA C. MOREL, and ELI MURRAY
Design and graphics by MARTIN FROBISHER and ELI MURRAY
Times Staff
Police come to shoo away panhandlers, referee parking disputes and check on foul-mouthed teenagers.
They are called to arrest the man who drinks a 98-cent iced tea without paying and capture the customer who joyrides on a motorized shopping cart.
The calls eat up hours of officers' time. They all start at one place:
Walmart.
Law enforcement logged nearly 16,800 calls in one year to Walmarts in Pinellas, Hillsborough, Pasco and Hernando counties, according to a Tampa Bay Times analysis. That's two calls an hour, every hour, every day.
Local Walmarts, on average, generated four times as many calls as nearby Targets, the Times found. Many individual supercenters attracted more calls than the much larger WestShore Plaza mall.
When it comes to calling the cops, Walmart is such an outlier compared with its competitors that experts criticized the corporate giant for shifting too much of its security burden onto taxpayers. Several local law enforcement officers also emphasized that all the hours spent at Walmart cut into how often they can patrol other neighborhoods and prevent other crimes.
"They're a huge problem in terms of the amount of time that's spent there," said Tampa police Officer James Smith, who specializes in retail crime. "We are, as a department, at the mercy of what they want to do."
The Times reviewed thousands of records and interviewed dozens of officers and experts to provide an unprecedented look at the impact 53 Walmarts had on local policing.
Among the findings:
Sheriff's deputies in Hillsborough, Pasco and Hernando counties were called to individual Walmart stores more than to any other location — by far. The same went for police in Largo, Pinellas Park, Tarpon Springs, Dade City, Plant City, Brooksville and Port Richey. For authorities in Pinellas and St. Petersburg, Walmarts were the second busiest locations.
Officers logged fewer than 500 calls for violence, drugs or weapons. They took roughly another 7,000 calls for potential thefts. An even bigger category was general disorder, everything from suspected trespassing to parking violations, lost property and people sleeping outside stores. Those roughly 9,000 calls consumed hundreds of hours of officers' time, but resulted in just a few hundred arrests.
Many businesses paid a lot more in property taxes than the local Walmart but were much less of a burden on police. The Tyrone Square Mall in St. Petersburg, for instance, paid nearly four times as much in taxes as three nearby supercenters combined. Still, the mall attracted fewer police calls.
Officers know Walmart is such a regular trouble spot that they routinely show up without being called.
They simply hover around stores and parking lots to avert further issues, providing even more taxpayer-funded crime prevention. The Times found 6,200 of these unsolicited visits on top of the 16,800 other calls.
Walmart stores, with heavy foot traffic and cavernous layouts, are natural targets for shoplifters, panhandlers and other opportunists. Many are located in disadvantaged areas prone to more trouble. The retailer knows all of that, experts said, but doesn't do enough to address the problems, despite ample resources. Walmart, they said, lays out its stores in a way that invites trouble and often doesn't have enough uniformed employees to make sure everything runs smoothly.
Companies should do as much as they can to keep their properties in order before leaning on police, said Charles Fishman, author of The Wal-Mart Effect, a book about the retailer's growth and social impact. He equated Walmart's high volume of calls to the parents of a misbehaving 11-year-old who call 911 every time their child acts out.
"That's not what police are for," he said.
Walmart said it is doing what it must to thwart thieves and protect its merchandise. Spokesman Aaron Mullins said the company's specialists do "a really great job of identifying people who are breaking the law" and they "partner very closely with local law enforcement."
"Any type of criminal activity that might be happening in our stores we take very seriously," he said, "and we have processes in place to address that aggressively."
Thousands of calls, little security
Walmart's approach to handling problems is more "tough love" than "let's talk it out." The style descends from founder Sam Walton, a scrappy, no-nonsense businessman who famously wrote in his autobiography that theft is "one of the biggest enemies of profitability."
His company became the world's largest retailer, far exceeding other big box chains. Everything about Walmart is enormous: about 11,000 stores in 28 countries, 140 million weekly customers in the United States alone, $15 billion in annual profits.
But Walmart squeezes those profits from razor thin margins. The theft of a $4 pair of socks can obliterate the return on the next $100 in sales. So the company, experts said, relies heavily on police to protect its bottom line, starting with shoplifting.
Of the 7,000 calls in Tampa Bay in 2014 for suspected thefts, many were for items totaling less than $300, the threshold for when petty theft becomes grand theft. The Times found calls for items worth much less — a $10 gas can, $3 eye drops, $2 chocolates.
Another 9,000 calls were for basic disorder, everything from dealing with the drunk man talking loudly at the deli to checking on juveniles suspected of skipping school. Officers also responded for 911 hang-ups, follow-up investigations, or simply to take down information and collect lost property.
Those calls — some made by Walmart employees, others by customers — included more than 1,000 for suspected trespassers, another 1,000 for suspicious people and cars, and another 1,000 for suspected panhandling, loitering, noise complaints and "disturbances."
"Law enforcement becomes in effect a taxpayer-paid private security source for Walmart,"
said New York-based leading retail analyst Burt Flickinger.
Perhaps more than any other big-box retailer, Walmart caters to low-income shoppers looking to buy everything from vegetables to televisions as cheaply as possible. Walmart sometimes opens stores in neighborhoods where the threat of crime is higher. Employees at many stores know that at least a few desperate, drug-addled or ill-intentioned customers will pass through their doors every day.
A lot of shoppers "are struggling," said Michael Garafano, 23, a former maintenance worker, cashier and floor associate at two stores in Brandon. "So there's just a lot of stress."
That's all the more reason for a for-profit company like Walmart to adequately secure its stores, experts said. One solution: Hire more uniformed security guards. Research shows that they effectively deter misbehaving customers and can cut down on theft. Malls, for instance, often employ guards to manage everyday nuisances like noise complaints and loitering teens. Some Publix stores have guards in brown uniforms near the door.
Private security guards perform "all of those policing functions to both prevent the low-level disorder and also to respond to it, only calling police if in their judgment it might turn violent," said Michael Scott, director of the Center for Problem-Oriented Policing.
Walmart makes plenty of money and attracts so many police calls "that it would be reasonable to expect them to hire their own private security," said Scott, also a former Lauderhill police chief in Broward County.
Walmart would not say how many of its Tampa Bay stores have uniformed guards. Times reporters visited all of the area's supercenters and regular-sized Walmarts and noticed only five had a security officer, all located at the entrance. A half-dozen had greeters near the door, an old Walmart staple whose job it is to say hello to the streams of people coming in and out. The company recently announced plans to add more greeters to stores nationwide. Starting in October, Walmart paid to have an off-duty police officer posted at one St. Petersburg store, on 34th Street N, for 12 hours a day.
Garafano did not remember seeing many uniformed guards at the two stores where he worked. He said more security would have helped.
"If you see a guy in a uniform or something," he said, "you're probably not going to steal anything or cause trouble because you'll think, this guy's going to bust me."
More uniformed guards are just one option. Research shows that firm, experienced managers or well-trained employees can easily deal with many small issues. They can scare off loiterers or banish drunk customers.
Walmart deals with high staff turnover, said Flickinger, the New York-based retail analyst, and it eliminated many management positions in recent years to offset wage increases.
"Walmart looks at everything as cost instead of investment," he said.
'Tremendous strain' on police
The heavy load weighs on police in every Tampa Bay county.
The Times asked local law enforcement agencies for the three places their officers responded to most in 2014. The lists included parks and busy intersections, hospitals and mental health facilities. A few malls made it. So did a retirement community and a youth shelter. The lists hardly ever included large retailers such as Target, Publix and the Home Depot.
But Walmart dominated.
Pasco sheriff's deputies, for instance, were called to two individual Walmarts more than to any other commercial location in their jurisdiction. Walmarts also ranked No. 1 and No. 2 for the Hernando County Sheriff's Office. In Largo, Walmart was first and third on the list.
Hillsborough sheriff's deputies ended up at a Walmart on Fletcher Avenue more than any other location. What came second? Another Walmart. What was third? Another Walmart. In fact, seven of the Sheriff's Office's 10 busiest locations were Walmarts.
"It is a tremendous strain on manpower," Sheriff's Col. Greg Brown wrote in an email
to the Times.
Some overworked agencies have demanded that Walmart make changes. The police chief in Beech Grove, Ind., once deemed the local Walmart a nuisance and threatened it with fines of up to $2,500 for every small shoplifting call. About three months later, calls had fallen by almost two-thirds.
"At what point do you say, this one individual is taking enough resources that it is interfering with other functions?" said Seth Stoughton, a University of South Carolina law professor and former Tallahassee police officer. "There are other jobs that we could be doing, and we need to change the way that we respond."
In Port Richey, population 2,700, the department's handful of patrol officers fielded more than 450 calls in a year from the one Walmart in its jurisdiction, nearly three times as many as their next busiest commercial location, a WaWa gas station. Those calls led to about 200 arrests.
In August, a Walmart employee called the department after a 33-year-old man stole a $6.39 electric toothbrush. The officer arrived in three minutes, talked to a Walmart employee, arrested the man, and then made the 19-mile trip to the Land O'Lakes jail. After finishing the paperwork, the officer was free to take another call.
Total elapsed time: 2 ½ hours.
Port Richey Assistant Chief William Ferguson calculated that the arrests chewed up nearly 500 hours of officer time, at a department that sometimes has only two officers on patrol. That doesn't include all the other calls that didn't lead to arrests.
Port Richey police asked Walmart about hiring off-duty officers, but company officials never responded, he said. The city would be better served, Ferguson said, if police officers used all that time to drive through neighborhoods and head off other crimes.
"They can't do that when they're spending God knows how many hours at Walmart," he said.
"It's almost like we're Walmart's personal police transportation agency."
Far above Target
Walmart's aggressive approach, the Times found, leads it to demand far more from police than Target.
Reporters compared a year's worth of calls at Walmarts and Targets within the same police jurisdictions or just a few miles apart. The 10 Walmarts had more than 5,100 calls compared with fewer than 1,100 at the 10 Targets.
In Pinellas Park, for instance, a supercenter on U.S. 19 competes with a Target less than a mile away.
Walmart calls — 712.
Target calls — 195.
In Clearwater, the Target on Gulf-to-Bay Boulevard is bigger than the nearby Walmart.
Walmart calls — 392.
Target calls — 107.
The discrepancy was more stark on Bruce B. Downs Boulevard near the Hillsborough-Pasco county line.
Walmart calls — 531.
Target calls — 52.
Walmart vs Target
The Times reviewed 10 Walmarts and close-by Targets.
In every case, Walmart had more calls.
Total: 586
In most cases, the Walmart stores were larger than the Targets. The Times accounted for the size difference by calculating the number of calls for every 10,000 square feet of store space. Even then, the Walmarts averaged more than three times the calls, producing about 30 per 10,000 square feet compared with only about nine at Target.
Reporters also considered that Walmart stores are often open overnight, while Targets close at 11 p.m. or earlier. But the Times analysis found that most police calls came during the afternoon and evening hours when both Walmart and Target are open. Only about 11 percent came during the overnight hours.
Unlike Walmart, Target seems to have more uniformed employees strolling the aisles, which helps cut down on problems, said Flickinger, a retail consultant who has worked with many national chains. Walmart's choice to stay open late and its success in attracting shoppers does not absolve it of the responsibility to reduce problems on its property, he added.
"Rather than store security and store management taking care of the problem, as many other retailers would take care of the security," he said, "the call is made to (Tampa Bay) law enforcement."
Target declined to comment on its security or its competition with Walmart.
In 2012, Target's then-vice president for assets protection, Brad Brekke, said it was "no secret that retail theft — particularly low-level offending — consumes an enormous amount of public and private resources."
"Here at Target, we are taking an active and engaged role in alleviating some of this burden on the criminal justice system," he said.
Emily Gold LaGratta, who co-authored a 2012 Center for Court Innovation shoplifting study in conjunction with Target, would not comment on Target's approach specifically, but said that "relatively small tweaks to (corporate) policies could have an impact on how many times police get called." One option? A retailer might only call police for repeat offenders, or if the offender steals items that exceed a specified threshold, such as $50.
A decade ago, for instance, Walmart announced plans to stop calling authorities for some first-time shoplifters who stole items totaling less than $25. Walmart would not talk about whether it is still enforcing that policy today.
Wyatt Jefferies, a Walmart spokesman, spoke more openly about a diversion program the company adopted in select places about three years ago. Instead of calling police, the store gives first-time shoplifters the option of paying restitution and completing online courses. Eight Tampa Bay stores are enrolled, he said, and the retailer is assessing whether it will expand the program here and elsewhere.
"We've already seen significant impact from their ability to alleviate pressure on local law enforcement for low-risk offenders," Jefferies said.
Walmart attracts more foot traffic than other retailers. More customers, Jefferies said, means more potential for crime, which results in more calls to police.
"It almost looks like Walmart is being penalized for following the law in a way," he said.
Walking through 'chaos'
On a Tuesday afternoon, Wesley Jennings stepped into a Tampa Walmart with a Times reporter and immediately began describing how the retailer creates an environment that encourages problems.
The store was loud and frenetic, the fluorescent lights extra bright. He saw racks overflowing with clothes, a shelf crammed with printer cartridges, boxes scattered in the middle of an aisle.
"There's just very limited open space," said Jennings, a University of South Florida professor with degrees in criminology and psychology, "and then there's literally tons of products."
Near the electronics department, tall cardboard displays blocked sightlines, creating pockets where an opportunist could feel alone, unseen, safe to steal. He peered up at the ceiling-mounted video cameras. Shoplifters notice those, he said, but often think they aren't working or can't zoom in close enough to record them shoving items into their pockets.
Jennings saw fewer than a dozen uniformed employees walking inside the 212,000-square-foot building. Nowhere did he see uniformed security.
Stores are like neighborhoods, he said. If they look tidy, research shows, they signal that the residents are paying attention. Walmarts can feel messy and disheveled. The "chaos," Jennings said, allows troublemakers to rationalize that the company doesn't care. It also sends the message that they might get away with it.
See what it's like to be a police officer at Walmart
Tampa Bay Times
Last August, a teenager at a supercenter in Hudson pocketed an $18 audio cable. A specially trained Walmart employee who works undercover to catch thieves spotted him. When loss prevention associates see a shoplifter, they dart between aisles, shadowing their targets and relaying movements into radios or cell phones before surrounding suspects at the door.
A loss prevention associate walked the teenager to a narrow office and called the Pasco County Sheriff's Office. Two deputies spent more than 50 minutes working on the call.
The boy cussed and hung his head. He had more than a hundred dollars in his pocket. He said he hadn't planned to steal anything when he walked into the store.
"I could have paid for ... nine of them," he said.
A body camera captured Deputy Jason Logue reflecting on Walmart's surveillance system and the volume of calls at the supercenter.
"Unfortunately, it just seems to be a big revolving door," said Logue, before leading the teenager to a patrol car. "We do all this work, and then I feel like a month later I'm dealing with the same guy all over again."
A taxpayer problem
Walmart pays taxes — a lot of taxes — and like any taxpayer is entitled to government services including help from police. The company is a "commercial citizen," noted Pinellas County Sheriff Bob Gualtieri, that "doesn't deserve to get ripped off by people."
But other companies, including some of Walmart's competitors, pay a lot of taxes, too, and they don't have nearly the same impact on police.
In east Hillsborough, for instance, a Walmart paid close to the same amount in property taxes as a nearby Target. But the Walmart also had more than four times as many police calls, the Times found.
In Clearwater, a Walmart on U.S. 19 paid less in property taxes than a nearby Target. Yet police wound up at the Walmart more than three times as often.
In Plant City, the Walmart on James L. Redman Parkway was the eighth biggest taxpayer, just ahead of a nearby shopping plaza with a Publix, Bealls, CVS and several restaurants. Still, the Walmart alone had nearly three times more calls than the entire plaza.
The Walmart, in fact, had more police calls than the shopping plaza plus the city's seven other biggest taxpayers combined.
"We always have to plan for a busy day at Walmart," said Plant City police Sgt. Alfred Van Duyne.
The Times also compared Walmart's share of police calls to its share of all the property taxes paid in four cities. To do this, reporters focused only on calls to properties that paid taxes, and eliminated calls involving places like parks, intersections and most churches. The result? Walmart's slice of calls was consistently larger than its slice of tax payments. Much larger.
Take the Broad Street supercenter in Brooksville. Walmart's portion of police calls was twice as big as its portion of real estate taxes paid.
The gap was even wider at supercenters in Plant City, Port Richey and St. Petersburg.
When the Times asked about the volume of calls, Jefferies noted in an email that Walmart paid nearly $15 million in annual property taxes across Pinellas, Hillsborough, Pasco and Hernando counties. He also offered that the company contributed millions of dollars to charities across Florida. In Tampa Bay, Walmart has donated to shelters and toy drives and sponsored community events.
"Walmart is a proud member of the Tampa Bay community," Jefferies wrote. "We've created job opportunities … and strengthened communities, including police and fire departments, throughout the state of Florida."
Waiting for more calls
Responding to Walmart has become so routine that officers show up without even being called. They drive slowly through the parking lot or stop to write unrelated reports. Other times they go inside and walk the aisles, or just buy a soda.
For patrol officers, these unsolicited visits to Walmarts are an easy decision, said Scott, the former Lauderhill police chief.
"Look, I either get called there later, or I go there now and prevent things," he said.
The Times found more than 6,200 of these visits, on top of the other 16,800 calls.
Garafano, the former Walmart employee in Brandon, said he sometimes saw sheriff's patrol cars parked near the supercenter on East Brandon Boulevard, even when nothing was happening.
"It was almost like they were kind of just waiting to get a call," he said.
Assistant Chief Ferguson, who worked for Tampa police from 1989 until 2014 before moving to Port Richey, remembers shift supervisors conducting daily roll call in the parking lot of a Walmart on Dale Mabry Highway. A dozen cruisers would pull in, and a jail transport van was often parked outside, too, he said. Officers hoped the show of force would stop troublemakers before they even walked inside the store.
Targets did not receive so much unsolicited attention, the Times found.
Police, for instance, conducted nearly 2,400 of what are often called "directed patrols" at six Walmarts compared with about 1,150 at six nearby Targets. Not all agencies performed directed patrols — or recorded them — in the same way, so the Times limited the comparison to stores within the same jurisdictions. In Clearwater, for instance, police logged 273 directed patrols at a Walmart compared with 76 at a larger Target fewer than three miles away.
The directed patrols, Scott said, in some ways reward bad behavior: Walmart creates so much work for police that they feel obligated to give the retailer even more attention, free of charge. That further cuts into the time officers can spend at other places, he said.
"Obviously all of those other businesses are not getting that officer's attention," he said. "All of the residential areas around (the store) are not getting it."
With no fix, the problems continue
As long as calls keep coming, police will keep showing up. It's their job to respond.
"We're going to service them, whether it's twice a day or 200 times a day," said Van Duyne, the Plant City police sergeant.
To cut down on at least some of those calls, a few Tampa Bay agencies are experimenting with stationing cruisers and portable cameras in parking lots. Others, including the Hillsborough Sheriff's Office and Zephyrhills police, have reached out to Walmart to discuss solutions.
Police can make small fixes. But Ronald Clarke, a Rutgers University criminal justice professor, said the onus is on Walmart to change its policies.
"The public sector is sort of just a victim of this particular problem," said Clarke, who wrote a Department of Justice guide on shoplifting prevention. "There's nothing much they can do. The people that can do anything about it are the private agencies that are selling the goods. That's really the truth."
For now, the calls continue to pour in.
The Times checked four area supercenters — one each in Pinellas, Hillsborough, Pasco and Hernando — and found that total calls remained steady from 2014 to 2015.
At the Zephyrhills Walmart, retail theft arrests nearly doubled in the first six months of 2015. Capt. Derek Brewer said a Walmart manager attributed the increase to better trained loss prevention associates stopping more people.
In Clearwater last May, two Walmart associates spotted a man in a green shirt take a 98-cent bottle of sweet tea from a cooler, drink most of it and set it down in the candy department. A loss prevention specialist stopped him at the exit.
A police officer worked two hours on the case, including filling out paperwork for a petty theft charge. Before posting bail, the man spent 10 days in jail, a cost of about $1,230 to taxpayers.
The officer asked the man what happened.
"I was thirsty," he said.
Times news researchers John Martin, Caryn Baird and Carolyn Edds contributed to this report. Contact Zachary T. Sampson at zsampson@tampabay.com or follow @zacksampson, Laura C. Morel at lmorel@tampabay.com or follow @lauracmorel, and Eli Murray at emurray@tampabay.com or follow @Eli_Mur.
.
About the data
For this project, Tampa Bay Times reporters requested police calls from the 15 law enforcement agencies that patrolled at least one Walmart in Pinellas, Hillsborough, Pasco or Hernando counties in 2014.
Authorities provided the Times with records of 29,669 calls. The Times excluded 6,100 calls such as emergency medical situations, calls to assist other agencies, warrant checks and probation violations. They also eliminated duplicate calls, including in Tampa, where police sometimes logged one incident twice under different two-letter codes. This process meant erring on the side of undercounting police calls to Walmarts.
Sometimes authorities attributed calls to Walmart that did not take place on store property, including many traffic crashes and violations that occurred on the streets near a Walmart. The reporters could eliminate most of those calls, though it's possible some made it into the final count.
The Times also separated out roughly 6,200 calls commonly known as directed patrols or business checks. They are calls self-initiated by the officers, not by a complaint from someone at a store.
After stripping excluded calls and directed patrols, the Times found that local authorities responded to Walmarts in Tampa Bay nearly 16,800 times in one year.
Reporters also asked each police agency for a list of the locations where their officers or deputies received the most calls. Most of the agencies provided the Times with their own filtered lists. The Times reporters then excluded calls logged to police headquarters, jails or courthouses. Brooksville, St. Petersburg, and Plant City provided spreadsheets of every call for service in 2014, from which reporters determined the busiest locations. The reporters filtered the data for those three agencies to exclude off-duty calls and directed patrols.
For the tax comparisons, reporters requested the total amount of property taxes paid within St. Petersburg, Brooksville, Port Richey and Plant City. They then calculated a percentage for how much Walmart contributed to each city. For most cities, the Times only looked at real estate taxes, excluding tangible taxes. The Brooksville property tax comparison includes tangible taxes because the tax collector's office could not provide a breakdown. Reporters did not look at state sales tax records because they are exempt from public record, and because sales tax is ultimately paid by the customer, not the store.
The arrest data includes both physical arrests, where a suspect was taken to jail, and notices to appear, citations that order a suspect to show up in court at a later date.
The Times, throughout its reporting, consulted with more than 55 law enforcement leaders and experts on retail crime. Reporters contacted Walmart three times, once with a summary of their findings.
======================================
Share your thoughts
218 Comments
SortSubscribeRSS
1 minute ago
Donald Harrison
How many cops work the private events like the Football games, the fair, etc? What percent are paid by the agency and what percent was paid by the host?
ReplyShare00
9 minutes ago
Donald Harrison
FBI stats say 6 million thefts by 270 million adults citizens annually. Applying these stats to Walmart, 8600 people per day would be 191 thefts every year. Do not blame Walmart for the thefts because the thieves choose to steal from them any more than you should be blaming the pool for attracting swimmers. People die in swimming pools. Had that pool not been there, that person would not have died. Had Walmart not been there, the cops would not have been called. So I suspect the argument is, Walmart could do better. What did the story reveal what Walmart does? It simply says it does not enough to prevent or discourage the theft. What does it do and what else could it do? A high school with 1500 student has a cop. Why don't the cops stay at Walmart with more than 5 time the number of people? Why no mention that the government collects $300-400 per defendant convicted of stealing? It is a business, and the government is crying that their "expense" is too high while never addressing the benefit it receives from these defendants.
ReplyShare00
1 hour ago
Betty Giles
Thanks for including all that data. I really liked reading this online to see the charts as they were presented. Really something to think about. Another reason to shop Target over Walmart.
ReplyShare00
1 hour ago
Duncan Mcdonald
In Tampa, about 5 years ago, a Walmart wanted to build a wall around the perimeters of the store, to prevent theft. Black activists sued Walmart, alleging that Walmart was profiling it's shoppers, because of it's location near black neighborhoods. The activists claimed that other Walmarts did not build walls around it's perimeters, so why would they choose to do so in a black area. Walmart withdrew it's plans to build the wall.
ReplyShare10
1 hour ago
Joshu Jones
Wow, so many "new" usernames here on this thread. I suspect that if Walmart invested some of the money they obviously earmark for PR shills on security personnel instead, they might actually stop calling those LEOs so much. But why bother, when corporate welfare is so forthcoming from our Republican politicians.
ReplyShare1 reply00
27 minutes ago
Eamon deValera
It certainly doesn't have anything to do with pulling the rug out from under Tribune subscribers and forcing them here, no of course it doesn't.
ReplyShare00
This comment has been deleted
1 reply
1 hour ago
pnels42
So staunch conservative Arch Stanton loves his taxes (assuming he pays any) going to a corporate giant in the form of corporate welfare that artificially props up its profit margins and gives the illusion that the business is successful.
ReplyShare21
2 hours ago
ac4aq
That's real savings, that's the Wal-Mart way! A health care plan for the employees? It's called "Medicaid". Security? Call the cops! Shift as many burdens to the taxpayer as you can get away with, to maintain those low, low prices...
ReplyShare3 replies51
1 hour ago
Donald Harrison
If the government created it, why would they not use it?
ReplyShare11
58 minutes ago
pnels42
Exactly.
I'm surprised they offer and match a 401K, but more than likely the average store associate's retirement plan will be social security because they can't afford to contribute to the 401K.
So to sum up Walmart's business model. They can afford to offer low low prices because...
1.) they pay no property taxes and get breaks on sales taxes.
2.) state, local and county governments pay for infrastructure improvements when they build a store
3.) the healthcare plan for most employees is Medicaid or "let them die".
4.) the retirement plan is social security
ReplyShare1 reply00
26 minutes ago
Eamon deValera
None of those is remotely true.
You are certainly entitled to your own opinion, you are not entitled to your own facts.
ReplyShare00
2 hours ago
Viron Payne
I think a per customer quota would be a fair way to determine how well a retailer is handling minor law issues in house. Based on per customer rates Wal-Mart would fair much better than it does in this article. Another good proxy would be dollars in sales per call.
I'm not taking a stand for Walmart, but I am saying that the way the data is presented is skewed against Walmart.
Even though I tend to be draconian I am not against an in house program for first time offenders committing petty theft of an inconsequential amount of perhaps no more than $50.
Personally I would assume have someone shoot a shoplifter dead and end society's misery of higher cost of retail items, burden of public law enforcement, prosecution, and incarceration. More importantly it would help stem the tide of repeat offenders and end the natural progression to higher crimes. The progression from petty theft to grand theft to murderer to attorney to politician must stop and it needs to be stopped early in order to save society from social insanity and insolvency.
Imagine a world without lawyers or politicians.
Vote Viron
ReplyShare12
2 hours ago
Kenneth Ringler
my thought on this. we give summons to appear in court for minor crimes I.E misdemeanor why is the police offers taking these people to jail over 4.00 dollars wright them a summons to appear in court . i know this will not solve the under lining issues but it would free the officer up a little quicker then driving them all the way to the jail for stealing a 4.00 item
ReplyShare2 replies00
1 hour ago
Duncan Mcdonald
You would then have the police officers having to round up the thieves for 'failure to appear' charges. in some areas there is a mandatory $100.00 fine for shoplifting, regardless of the price of the stolen item. Jail time, community service, and fines would make the incident something the thief would try to avoid in the future.
ReplyShare00
21 minutes ago
Donald Harrison
They get paid by the defendant The court orders the defendant to pay the cost of investigation ( generally about $26 per cop hour), cost of prosecution ($50 in misdemeanor) and court costs of about $200. There is a lot of money to go around. But this aspect of the system was not addressed.
ReplyShare00
2 hours ago
moxierollins
The court system is a revolving door. Maybe if real punishment was dealt things would improve. Blaming Walmart is a non issue, it's the criminals that are the problem.
ReplyShare34
2 hours ago
David Wagner
I have to say this I used to work at wal mart and I agree with the video here showing that a person is not shop lifting in less they walk out with the item ... This is the way everyone is trained when they are hired you can not even say anything to any shop lifter in less they have walked out with the item. I do have to say that this walmart in ? should be closed or they should have a officer that stays at the store making a officer come of the street that many times per day were the real crime is should be closed due to tax payers having to pay millions to have them stop there like that we all know many other stores that would be closed if they acted like this some of the arrests could be talked with in the staff at walmart and did not need to be taken to the extreme that it did and it looks like the police force would agree with me as well I would ask the state to take action right away ... Very sad that this keeps going on wonder what other crime is going on when these officers are at wal mart
ReplyShare00
3 hours ago
Tom Kulaga
Perhaps should not be a 24 hour store. I wonder how much less will happen if it were open 8 am to 10 pm
ReplyShare1 reply00
23 minutes ago
Eamon deValera
Where would guys who pick up 3 teen girls who they know as a friend of a friend go to buy a TV at night then? Where would they leave 3 teen girls in their running car as they ran in quickly to buy a TV?
Was the call to the Walmart when the gentleman who let the 3 now dead teen girls wait in his car with the engine running just before they stole the car, ran from the police and crashed into a pond at a cemetery included in the breakdown of calls.
That seems like it isn't Walmart's fault.
It also seems like his story is complete nonsense and he is a liar, but perhaps I'm just cynical.
ReplyShare00
3 hours ago
Tom Kulaga
At least Walmart calls. The Home Depot let the thieves go
ReplyShare10
3 hours ago
Bruce Brown
Assuming that Wal-Mart pays property taxes, the police need to respond to as many calls as they get there. This article is a non event.
ReplyShare2 replies34
3 hours ago
pnels42
Typically, the county and city give them tax breaks and other incentives to build a store thinking it will be a positive for the local economy.
ReplyShare1 reply30
22 minutes ago
Eamon deValera
It is. Where else would the people in Midtown shop? Or shoplift in this case.
ReplyShare00
3 hours ago
John Smith
I saw plain clothes security stop a suspected shoplifter at Walmart so they do use private security, you just don't see them because they dress like average Walmart shoppers.
ReplyShare1 reply31
1 hour ago
Duncan Mcdonald
Walmart's security still has to call the police to arrest the thief. The security can only detain the suspect until police arrive.
ReplyShare00
3 hours ago
Cynthia Chandler
Wal-Mart, like other companies, doesn't pay their employees enough to take care of their families. I'm talking about adults, not kids. Our tax dollars go to Wal-Mart and other businesses in subsidies and Wal-Mart and others have employees that need to apply for welfare to feed their families. Then those workers use their EBT cards at Wal-Mart. One vicious circle of corporate welfare.
ReplyShare1 reply41
20 minutes ago
Eamon deValera
If you think stocking shelves at Walmart is a job on which you can support a family you're mistaken. If you have no skills you probably should get some and get a higher paying job. If you want to support a family you have to make some sacrifices. Put down the bong, beer, or bratwurst and pick up a school book.
ReplyShare00
3 hours ago
Roger Sterling
I don't blame the Wal-Mart employees at all. They are being paid dirt-cheap wages, not allowed to work over 29 hours (can't provide our people with Health Insurance can we?), and probably have zero training and zero monetary incentives for apprehending thieves. In that scenario, no way am I going to walk over and grab a meth-head thief who is probably carrying a knife or gun or hatchet. Do you think those penny-pinchers in management are going to reward you with a $2,000 bonus?? Of course not.
ReplyShare6 replies51
2 hours ago
Mike Rasor
The issue isn't that the employees aren't apprehending thieves. As the article points out most of the calls are for retail theft. That means a store employee actually stopped someone and detained them. The issue is that Walmart doesn't put into place some of the most basic loss prevention techniques to deter theft. They merely rely on aggressively apprehending shoplifters and handing them off to the police.
ReplyShare4 replies10
1 hour ago
Donald Harrison
What techniques are you talking about?
ReplyShare1 reply00
19 minutes ago
Eamon deValera
Well aggressively apprehending shoplifters and handing them off to police seems like a really good start.
ReplyShare00
50 minutes ago
Duncan Mcdonald
What are these "most basic loss prevention techniques to deter theft"? Armed guards at store entrances would certainly cause anxiety for the shoppers, especially those with children. Uniformed security officers patrolling the aisles can be accused of racial profiling and the store can be sued. I am an experienced Florida State licensed security officer, and I suspect your 'basic deterrent techniques would incur many civil cases and many expensive settlements.'
ReplyShare1 reply00
19 minutes ago
Eamon deValera
A guy with a gun, the libs would go nuts.
ReplyShare00
20 minutes ago
Eamon deValera
Don't blame Walmart because the Obama administration screwed people out of both full time work and medical insurance.
ReplyShare00
3 hours ago
Jake Hartvigsen
To those who have responded that this piece is simply a hit job on Walmart, I don't get it. As the data suggest, Walmart is an extreme outlier compared to its competitors when it comes to calls to the police. If the story was about a neighborhood that had an excessive amount of crime or a restaurant that had an inordinate number of food poisoning cases, would those same readers say that the reporter was doing a "hit job" by investigating why that was happening? Of course not. A newspaper and its reporters' jobs are to cover what is happening in a community, state, nation, etc. and, when possible, to try find answers to why those things happen. That seems to be just what this article seeks to do.
ReplyShare2 replies40
45 minutes ago
Duncan Mcdonald
Food poisoning is the responsibility of the restaurant, immoral thieves are not the responsibility of the store. Much more severe sentencing for shoplifting should be imposed by our court system, and no blame should be placed on Walmart for protecting it's business and property from immoral thieves.
ReplyShare10
15 minutes ago
Eamon deValera
You can't draw inferences from those data. The article also mentioned hospitals as being high in call volume to the police. Does that mean more crimes are committed at hospitals? No of course not, it means hospitals must by law report a lot of things that happen off site such as shootings, stabbings, child abuse, elder abuse and other things required of mandatory reporters. To include hospitals was not well thought out.
While other stores may opt to let criminals go after retaking the stolen goods, Walmart is being a good citizen by applying the law fairly and without discrimination. You steal a TV you get arrested, you steal a $0.98 tea you get arrested too.
Would it be fair to the law abiding citizens to do otherwise? If they let everyone off at $10 would it be fair to the guy who steals $10.50? No, it wouldn't. Apply the law equally and fairly and we all win.
ReplyShare00
3 hours ago
William Spires
Why the Walmart comparison only to Target ? Target should fund the study since it is highly favors their company and they certainly could use some favorable publicity after their insane restroom policy and they were already the underdog to the lower prices of Walmart.
ReplyShare1 reply33
3 hours ago
pnels42
What insane restroom policy.
ReplyShare12
4 hours ago
Coast to Coast
A great and interesting article. Somehow the stores like Walmart should be made to pay for private security. Something should be done to help police for more important incidents. This is really outrageous. I also agree the store on US 19 is a huge mess.
ReplyShare10
4 hours ago
John Franson
Just as Wal-Mart relies on taxpayers to pay for their security, they also rely on taxpayers to pay their employees, who can't survive on the poverty wages that Wal-Mart pays. The Walton family and other Wal-Mart bigwigs are reaping the profits, making out like bandits.
ReplyShare1 reply60
13 minutes ago
Eamon deValera
You can have low prices, stores in urban neighborhoods under-served by other retailers, or you can pay people twice what their worth.
You can't have them all.
ReplyShare00
4 hours ago
Robert Bennie
Thank you so much for this report. Walmart employees use emergency services at hospitals in lieu of Walmarts' so called health plans. Walmart is given corporate welfare from Federal, State and Local governments to set up stores in the areas and then hire people at low wages. I haven't bought anything at a Walmart in over 2 1/2 years and encourage friends and relatives to boycott similarly. Walmart is a fungus on our social and cultural landscape and at the bottom line does not contribute to the communities as a responsible corporate citizen. The family languishes in obscene riches taken from the public and there are no longer any laws, regulations and controls to prevent it. GREED, for lack of a better word, wins the day!
ReplyShare1 reply40
9 minutes ago
Eamon deValera
This has nothing to do with Walmart employees using the ER. Trust me after many years I've seen lots of abuses of the ER and those getting a government check with 'the gold card' (medicaid cards are gold) are much more likely to use the ER for non-urgent care as anyone with a job. Those on the dole have no where to go, nothing to do, and plenty of free time but can't manage to get to the doctor.
They come to the ER on Friday at midnight because of some minor malady (generally gynecological late on an evening) and want it cured right away because they have a date, or are going out of town in the morning.
Check out real life not the liberal utopia in which you reside.
If you have a retirement fund that you didn't pick all the equities yourself it has Walmart as a holding. If you don't have a retirement fund it sucks to be you.
ReplyShare00
4 hours ago
Greg Mason
Wal-Mart has trained and effective security personnel. The certainly don't catch all thieves but they are possibly more successful at catching shoplifters than other stores. Perhaps Wal-Mart could do more to discourage theft but to imply it is somehow unjust to make sure someone is not going pay and to make the best case possible by letting the shoplifter walk past the registers or even outside, is unfair and wrong. If they catch a thief then it is their decision if they want to call law-enforcement and not all that are caught are arrested. Many of the people stopped by Wal-Mart employees and arrested by law enforcement are repeat offenders. How many times do you propose they let someone steal any item before they are stopped and charged. Perhaps it is the security teams diligences, maybe it's Wal-Marts policies, or possibly its some of the people Wal-Mart attracts that account for the high number of police calls, but most likely it as a combination of these three plus several more factors.
The most disturbing thing in this article is the Times and some comments seems to be implying that Wal-Mart be limited because they pay less tax than another business. Is this really a policy you're promoting? Does that just apply to commercial business or should we that also apply to neighborhoods or individuals? Maybe, since some have brought up Wal-Mart employees pay, we should limit services to all company's who's pay structure or profit we disagree with.
ReplyShare33
4 hours ago
James Madison
Just charge all retail businesses $25 for each no violent call. Some fire departments do something like this. They will quickly hire more security.
ReplyShare3 replies50
3 hours ago
Greg Mason
How about charging the criminal and not the victim. Some Fire departments use local ordinance to charge for false fire alarms and code violations like burning trash. They are charging the person who caused the problem, not the neighbor that called it in. Some law enforcement agency's do the same thing for false burglar alarms.
ReplyShare1 reply22
5 minutes ago
Eamon deValera
The police already to charge the criminals for investigative costs, and upon conviction (or any punitive sentence even if adjudication is withheld) the costs are assessed.
The article would have done well to mention that. If they had mentioned any of the names of those arrested you could check and see how much the criminals had to reimburse the police departments for the time spent arresting and processing them.
It has been that way in Florida for decades.
ReplyShare00
1 hour ago
Duncan Mcdonald
More security may catch more thieves, which would result in more police calls. Why are we blaming the store for the immoral thieves who visit? The thieves should be made to pay for the police call, not the store.
ReplyShare00
4 hours ago
Anonymous
There are many facets to this problem. One is the slap on the hand that shoplifters get when they commit theft. If penalties were increased to include mandatory state prison time it would go far in deterring theft. If someone is thinking of stealing an ipod knowing they will get 15 years in the can they will think twice and not risk it. I see large, overweight, black people who park in handicap lanes who do not have a valid permit. Obesity is not a reason to break the law. I reported to the rent a cop that people were using the handicapped spaces illegally and he said there is nothing he can do. So I called the cops and it took them over an hour to respond. Again nothing was done. The pinellas county sheriff wants to incarcerate as many people as he can because it is more money for his agency.
ReplyShare1 reply00
5 minutes ago
Eamon deValera
Nope, one facet. Criminals steal stuff.
ReplyShare00
4 hours ago
Richard Foster
I have a sneaking suspicion the same people racing to this article to support Walmart are the same people who scream about Federal taxes and paying for anything. Hello, this article is about your tax dollars.
ReplyShare1 reply60
4 minutes ago
Eamon deValera
We like our tax dollars used to put criminals in jail. Heck we'll pay more if we have to deal with fewer criminals on a daily basis. I mean we're paying for them with welfare or jail so why not keep them locked up if we get the same return on investment.
ReplyShare00
4 hours ago
Nancy Uh Hunh
you can't compare two stores that have completely different sales figues and claim they are equal. how much in state sales tax and corporate tax does walmart generate in its stores and distributuon centers? what is the benefit to a community in relative cost of goods and services and time saved shopping? sounds like the authors are arguing that thieves shouldn't be punished. if the same thieves keep coming back, it is not walmart's fault each time the thief steals. it only means that the thieves are not adequately taught by the authorities not to steal the first time they get arrested. maybe they shouldn't go to jail. maybe give them a week of calesthenics and running, then 50 hours of volunteer work for a walmart charity, and probation. if they get caught again, this is probably someone who is also stealing from neighbors and family and friends and anyone else they can steal from and they have a serious issue that needs correction, maybe substance issues as well. how about just take a corner of the lot when walmarts are constructed to set aside a space for small holding cell or two with one officer to man it per shift, and split the cost with walmart? no calling or cruisers or dispatch needed. police could do the same job at half the cost. the cell could be used for anybody else arrested in the area, also. it seems ridiculous that it takes that much time to arrest and transport one shoplifter. at the end of the shift move and book all at once.
ReplyShare2 replies23
4 hours ago
subversivestreak
All of this was addressed in the article.
ReplyShare1 reply11
2 hours ago
Dolly Golen
With capitals and periods.
ReplyShare01
4 hours ago
hookahs Smoking
And while we're at it, TBT for full disclosure, could you please disclose your revenues in the past 2 years flowing from Wal-Mart and Target.
Just askin'.
ReplyShare2 replies50
3 hours ago
pnels42
Why should they? Oh I know...you think they are favoring Target because they spend more on advertising. How absurd. But you always have to inject some preposterous conspiracy theory into every story.
ReplyShare1 reply02
2 hours ago
hookahs Smoking
If you don't think that big money advertisers don't hold a sledgehammer over their media you're a fool.
ReplyShare20
5 hours ago
Victor J. Bertoluzzi III
Seriously? The stupidity of this article is unfathomable. When is the last time you saw security guards in a bank? Banks no longer hire security personnel because the FBI is tasked with the responsibility of investigating, pursuit of, and arresting those involved at taxpayer expense. Why should a bank pay for additional security when is explicitly guaranteed to be free of charge and provided for on the taxpayers dime? Just to pile on a little more, when a bank is robbed the bank is not on the hook for the loss of the money. Again the taxpayer pays the cost thanks to the federal government and the FDIC. When banks make risky investments and are about to fail who bails them out? Give me a break. Are your ATM and checking fees reduced by the bank not having to pay for those services? NO!! In fact we all pay for those pricey services for each and every bank in the US whether we are their customers or not. Pull out your monthly bank statements and assess those costs you fool. Crime is crime, break the law and pay the price. Walmart's customer demographics trend toward lower income members of society due to their lower prices. I frequently shop there for specific items that are more reasonably priced than other merchants.
ReplyShare5 replies54
5 hours ago
David Bryant
I still see security guards in banks. Pretty regularly in fact.
ReplyShare1 reply40
3 minutes ago
Eamon deValera
You must bank in the urban areas. The ones in Belleair don't have guards. You can even see the tellers face to face not through a partition.
ReplyShare00
4 hours ago
subversivestreak
FDIC is insurance against the bank failing, not robberies.
ReplyShare2 replies40
3 hours ago
Victor J. Bertoluzzi III
John Dillinger was once asked, "Why do you rob banks"? His reply was, "That's where the money is". Not true The 1930's when bank robberies were all the rage a little known organization called the Federal Bureau of Investigation, which had no arrest authority and were not even allowed to carry firearms was restructured under the supervision of J. Edgar Hoover. Initially they were even worse than the Keystone Cops in a Buster Crab silent movie. They suffered the loss of many agents in the line of duty and were also responsible for the killing of a lot of innocent people mistaken for perps. The Roosevelt administration under the enactment of several executive orders expanded federal authority to reign in banks, (Glass-Stengel), and provide for the security and stability of depositors assets. Think about previous generations mistrust of banks. If a robbery took place the depositors were the losers.
ReplyShare1 reply00
2 hours ago
subversivestreak
What does any of that have to do with the FDIC?
ReplyShare10
5 hours ago
TheShaz
Is this an effort to blame WalMart? They are targeted because they are the largest store chain in the nation.
Cant blame prices.
Cant blame long lines.
Cant blame the economy.
Cant blame your financial status.
Cant blame the President, or the previous President.
It is against the law to steal.
Florida Statue 812.014 - http://www.leg.state.fl.us/ Look it up!
Look at the video again - the one guy had $300 on him and could have easily paid for what ever item he stole, he even admitted it on camera.He just didn't want to.
All I got out of this article is a lame effort to blame someone's illegal activity like theft on someone else.
Next you are going to tell me that if you let your kids play around at 3am on a school night and they go steal a car then drive it into a pond and drown...its the police that is at fault. Oh wait, that is on another thread.
ReplyShare66
5 hours ago
Robert Champion
Walmart needs to hire it's on police. They claim razor thin profits on stuff, I say that's BS. 15 billion a year in profits is proof.
ReplyShare5 replies71
4 hours ago
John Tallfellow
Their profits are only a few pennies on the dollar.
ReplyShare01
4 hours ago
Nancy Uh Hunh
private companies can't hire people with arrest powers. those belong to the state. walmart can be sued for privately detaining and dealing with many of these matters. walmart hires private employees to deal with theft and other issues but the police need to take the handoff, unless you just aren't going to arrest criminals, who by the way don't just do what they do in walmart. walmart is just where they end up.
ReplyShare10
3 hours ago
Cynthia Chandler
That is why they hide profits offshore (because of a tax loophole) and don't claim said profits on their returns receiving large tax returns.
ReplyShare00
2 hours ago
TheShaz
A private police force still can not arrest someone. They can detain, but not arrest and that point they will still have to call local law enforcement.
There is a cheaper way to fix this. Cheap and simple.
STOP STEALING!
ReplyShare00
2 minutes ago
Eamon deValera
Yet they haven't appointed you to Walmart's board of directors yet. You have such a fantastic grasp of economics.
ReplyShare00
5 hours ago
Elliot Wagner
This story is far from fair and balance. It demonstrates an anti-Walmart bias and a deep seeded hostility illustrative of the Times editorial polices. Walmart has done a great deal to improve the quality of life and standard of living for low income and middle class Americans by driving down costs and prices. It is the largest private employer in the world. All the Times wants to do is to bash a big company. I will not subscribe to the Tampa Bay Times because of their one-sided reporting. With their acquisition of the Tampa Tribune they have a monopoly on news print and will continue to abuse their position.
ReplyShare6 replies66
5 hours ago
hookahs Smoking
Good job Eliot.
You'll get an atta boy at the next associates meeting and we'll bump you up to 29 hours a week, but no more. Don't want to have to offer you health insurance.
ReplyShare74
4 hours ago
Jeff Barnes
How long have you worked in pubic relations at Wal Mart? The facts don't lie, the police information does not lie. Wal Mart is run by a cheap, greedy family that utilizes taxpayers to subsidizes its workers and do its security. We don't shop there because of it. I'll pay twice as much for something at Target then to ever step foot in Wal Mart
ReplyShare43
4 hours ago
Richard Foster
Your type of 'up is down' thinking is ridiculous. The article is pointing to raw numbers and actual calls. And, Walmart far and away leads. Yet, you read the article and claim bias? By the way, check out The High Cost of Low Prices. It's not a pretty picture. All those mom and pop stores going out of business and driving down wages is not all good.
ReplyShare1 reply30
3 hours ago
Mike White
How is Walmart to blame for being robbed? How is Walmart to blame for being robbed more than Target? Blaming the victim is the "up is down" thinking.
ReplyShare00
3 hours ago
John Franson
Too bad they haven't done anything to improve the quality of life and standard of living of their employees. They pay them poverty wages, relying on taxpayers to supplement their employees' income enough to survive.
ReplyShare00
3 hours ago
David Conrad
"deep seated"
ReplyShare00
5 hours ago
Dorine McKinnon
Perhaps I missed the comparison in the volume of business done between WalMart vs Target which would impact their stats. More people would equal higher crime.. I also don't feel that a two store comparison is not particularly valid or useful.
ReplyShare3 replies23
5 hours ago
hookahs Smoking
I'd be interested in the demographics of all shoppers for both Wal-Mart and Target and while we're at it, get the demographics for those arrested.
Wanna bet TBT could make a "bicycle racism" argument for Wal-Mart?
ReplyShare2 replies32
4 hours ago
subversivestreak
I used to live near a Wal-Mart and when I'd look at local mug shots virtually everyone arrested for petit theft in the area was arrested at the Wal-Mart. And pretty much all of them where white middle aged women.
ReplyShare1 reply00
2 hours ago
hookahs Smoking
Great anecdote. Now for some verifiable data please.
ReplyShare00
5 hours ago
Elsie Gilmore
This is only a "hit piece" if you think facts are irrelevant. Saying arsenic is poisonous is not a "hit" against arsenic. It's a fact.
ReplyShare91
5 hours ago
Max42
Well, surprise, surprise! The "expose" is back on-line, but missing some commentary, including mine. I wondered how long it would take TBT monitors to start deleting reader commentary. I can assure you there was no vulgarity or personal attacks in my commentary.
ReplyShare2 replies13
3 hours ago
pnels42
?????
ReplyShare1 reply10
17 minutes ago
Max42
This article was taken off line for some period of time - not long - but definitely off line for awhile - and when it returned some commentary was deleted, but has now been restored.
ReplyShare00
5 hours ago
E A
What the Walmart defenders seem to be reacting to is something I don't see in the piece. I certainly don't begrudge Walmart their retail success - I've worked retail; it can be brutal. The problem is that this is part of Walmart's consistent way of doing business: make do with the least or the worst in order to keep prices (artificially) low. That might benefit a consumer insofar as their expenses are lower, but make no mistake: some of that savings is paid elsewhere, in the form of public assistance for low-paid Walmart employees, or in the form of taxes paid to fund law enforcement which then spends a disproportionate time serving Walmart. They're well aware that their "always low prices" come, to some extent, at the expense of others in the community who will fund their security operations. I shop there regularly & see cops there almost every time, no matter the time of day - but getting an employee's help in the aisles, or finding a checkout with a short line? Forget it. (Doesn't help that there's rarely more than 4 open lanes.)
No one is saying shoplifters should go free. But there are better ways of preventing it and handling it, ways that don't involve the calls, time, effort, and expense detailed in this report. Hire more security to be at entrance and elsewhere. Hire more uniformed employees throughout. Consider the cost-benefit analysis & the retailer orgs recommendations. It might benefit *everyone* - community, cops, taxpayers, retailer.
ReplyShare3 replies72
5 hours ago
Max42
I would reply, but it will probably be deleted, as was my previous commentary on this article.
ReplyShare1 reply12
4 hours ago
subversivestreak
The whole thing is a giant conspiracy to hide your oh-so-cutting comments. LOL!
"Hi Philip Bush, the comment wipe was unintentional. We were pushing some fixes to the site for iphone users and somehow the comments got lost. We use a third party vender for comments and we are in the process of working with them to bring the comments back. Sorry for the inconvenience!"
ReplyShare20
3 hours ago
David Conrad
This is very well stated. Economists call these costs that companies try to fob off on society "externalities", and companies that try to externalize costs like this should be forced by society to step up and internalize the costs, and pay the actual cost of doing business, which includes having adequate staff and paying them a living wage.
In return, they might find their profit margins actually grow, once they're doing business in an area where their potential customers are better off.
ReplyShare20
5 hours ago
David Bryant
The WalMart located at the corner of 19th Street and Hillsborough Ave in Tampa appears to have a cop stationed there 24/7. Is that an off duty cop, or are we paying for that?
ReplyShare10
5 hours ago
Ray Alexander
great article!
ReplyShare1 reply33
5 hours ago
Norman Catledge
I concur!
ReplyShare23
5 hours ago
Randy Watts
The Times is just publishing another version of the "People of Walmart" that regularly appears on the Internet. Since, low income people do not behave like the "people of Target" or the "people of Publix", the Times apparently believes it is acceptable to criticize and ridicule the merchants who provide goods and services to them.
The Times article would have been more "fair and balanced" if it also addressed the law enforcement agencies in the area. What programs does law enforcement have to reduce crime at retail businesses in low income areas? How does law enforcement work with these retailers to reduce crime?
But, the Times unfairly singled out Wal-Mart for criticism, and reported little on the actions of local law enforcement to reduce crime, particularly in low income areas. Wal-Mart is not the enemy. Rather it is a citizen that provides goods and services to a majority of our low income citizens, and deserves the support of local government and the media.
ReplyShare2 replies410
5 hours ago
David Bryant
The People of Walmart website is worth a look... pretty amusing.
ReplyShare1 reply60
3 hours ago
Kent Weissinger
Used to be better before all the ads which came with the popularity, but still often funny.
ReplyShare10
5 hours ago
Manny Worthy
Walmart is an "attractive nuisance" and should , as other responsible merchants do, hire private police to insure the safety of their customers and accountability of their goods and services. OF course, this would be a diversion from socialism, you know; paying for services out of taxpayer pockets. Someone not paying for a bottle of soda pop is no reason to call a cop. Take care of it Walmart, before a tax on merchants who have excessive use of public services becomes law.
ReplyShare2 replies63
5 hours ago
Norman Catledge
Well spoken!
ReplyShare12
4 hours ago
John Tallfellow
What other merchants have security forces at their locations?
Private security has very limited authority in what they can do about shoplifters.
ReplyShare00
5 hours ago
Tom Rask
The unstated complaint in this article is that Wal-Mart has externalized some of their costs of doing business. That's no different than the banksters and their bail-outs, or the Rays and Bucs and their tax-dollar funded stadiums.
So I'm supposed to go to Target and pay more because they let shoplifters get away with theft? The rest of us pay for that theft. No wonder Target costs more.
Funny how the Times never runs investigative pieces like this that could really hurt their advertising revenue. Like about tax-dollar funded sports stadiums.
ReplyShare1 reply35
1 hour ago
pnels42
You're wrong.
You are paying more in taxes because of the corporate welfare Walmart receives, either directly or indirectly.
When Walmart builds a store, they demand and receive tax breaks. Who has to make up the difference? Local businesses and property owners do.
Walmart never pays for the infrastructure improvements required to support the new store. They get the local governments to pay for it. So the taxpayers pay more.
Taxpayers pay for the welfare and Medicaid used by Walmart's employees.
The additional police resources are also paid for by the taxpayer.
So the low prices really aren't so low after all.
ReplyShare00
5 hours ago
Rocco Chrisler
Walmart is a leach and the biggest cause of offshoring. They even train their employees how to apply for food stamps. Police should just ignore their calls. They can hire security guards.
ReplyShare62
6 hours ago
Theresa Callahan
Again what you see here is more corporate welfare. Just as Walmart relies on the federal government to provide health care and food stamps to its employees who don't earn enough to get by, here they are relying on public services for private corporate issues. Most major corporations have their own private security departments that are manned by fully authorized police officers who work part time for the corporate entities. This is how it's done in many many industries. Municipalities allow their officers to be hired out privately - this relieves the burden for "cops" on the clock, but also provides the police protection that they seem to rely so heavily on. Again, Walmart is dragging the U.S. economy down. Instead of putting Mom & Pop shops out of business, they should be purchasing American manufactured goods, paying their employees a living wage, and NOT sucking public tax dollars and resources out of communities, America would be much better off.
ReplyShare2 replies82
5 hours ago
Norman Catledge
So true!
ReplyShare02
4 hours ago
John Tallfellow
Those mom-and-pop stores charged their customers far higher prices. And most of them paid minimum wage with no benefits whatsoever, unlike Wal-Mart.
ReplyShare00
6 hours ago
Rbruce
Crime is crime. Wal-Mart is not at fault. The criminals are the trouble. What is Wal-Mart supposed to do, ignore all the bad deeds in their stores? What is private security supposed to do with those they catch shoplifting? Let them go? I have witnessed shoplifting in Wal-Mart and reported it to the shore's management. If Ace Hardware catches a shoplifter, are the supposed to let them go? The newspaper doesn't seem there is a problem with minor crimes at Tropicana Field or Raymond James stadium, or at any other large collection of people.
ReplyShare2 replies67
6 hours ago
edpr
I disagree, as part of a business plan they should have security to deter shoplifting. the point of the article that Wal-Mart is not doing enough to deter crime whereas other big box stores have done their fare share.
ReplyShare1 reply73
5 hours ago
Norman Catledge
When other big box stores have done their fair share, why should Walmart not do its fair share?
ReplyShare01
6 hours ago
V Jim Robinett
The point is that the police are paid to do their jobs which include catching thieves. They need to cart these people off to jail and let them spend a night of two in the jail locked up for their petty crimes. Our society is way to permissive on things of this nature, I prseume because the "political correctness factor" has gotton way out of hand and should be dumped in th garbage can!
ReplyShare2 replies44
5 hours ago
Norman Catledge
Amen!
ReplyShare02
4 hours ago
subversivestreak
Petit Theft does entail being carted off to jail. Typical bond is $150.
ReplyShare00
6 hours ago
Jacquess47
Thank you for reporting this problem, i had no idea .Taxpayers and other businesses should not have to carry this burden.
ReplyShare32
6 hours ago
Mike White
More backward thinking. Walmart isn't responsible or at fault for being robbed, the people who shoplifted are.
ReplyShare2 replies45
5 hours ago
edpr
They do not take the necessary preventive measures to thwart the shoplifting.
ReplyShare1 reply52
3 hours ago
Mike White
Do you blame minorities for racism? They do not take the necessary preventative measures to thwart the racism.
ReplyShare00
6 hours ago
TriciaL
How about a six-month experiment. Replace the senior citizen greeters with uniformed security guards. They can be just a friendly and helpful as the greeters (such as Clearwater PD's Officer Friendly), but I would bet they reduce the number of police calls dramatically. (The current greeters could shift to other duties.)
ReplyShare40
6 hours ago
Dakota Clauser Davis
You know both Walmart and the Police depts. need to come to grips here. Walmart should make their stores more secure. Whatever happened to stores having "store detectives" that wonder around ensuring no one is stealing? A presence like that is a deterent. Also Walmart should have their own security staff = to the number of incidences on average. It's just a cost of doing business. So I get both sides of this issue. Walmart needs to police their stores internally - agreed - but if they need to call in the Police to handle the serious stuff then they need to be able to do it no matter how often! I can tell you, Walmart has limited staff. IT's hard to find someone when you need to ask a question - they need to have more sales people - you are lucky to find 1 person who is covering 2 departments...you know they cannot keep on eye on the "store" while they are stocking shelves, organizing products and assisting customers when they have to cover 2 departments! And if Walmart needs to call the Police - then they need to call the police! Whether or not they pay property taxes that are equal to the trouble they cause is not the issue and should not be the issue - we pay Police Departments with our tax dollars to ensure the pubic safety - and that includes Walmart. The guy who beats his wife down the street after years of police calls in domestic abuse doesn't pay more property taxes than the guy next door who never calls the police!
ReplyShare31
6 hours ago
Dorothee Custer
Walmart has built a very successful business (owned by the richest family in the country) by keeping salaries low enough that many employees qualify for government provided food assistance & health care. Many of these same employees are held to just below full time work status so that no government mandated "benefits" need to be provided to them. One friend described how she was providing a service to a customer and ended up working less than 5 minutes over her scheduled time - on her next shift she had to punch out and leave so those few minutes would not push her into full time.
And now we see that Walmart does not have to provide basic security services for their business.
"We the people" provide much that a decent employer would normally providers its employees. And we pay for !
ReplyShare51
--------------------------------------------------------------